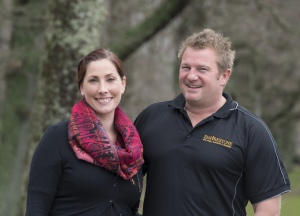 Vicki & Steve Broomhall
It was the historic buildings of Europe that first inspired owner Steve Broomhall to work with stone. He loved its splendour, history, timelessness and longevity.

Steve is fully qualified with level 5 Stonemasonry, natural fixtures and fittings and Banker Masonry. Masonry with strand in monumental masonry and fully qualified in Floor and Wall tiling.
Now, 15 years later, Empire Stone use their expert knowledge and passion to undertake stone work all over New Zealand.

As well as stone supply and distribution, and stone design and construction, Empire Stone also provide custom tile installation, certified waterproofing, pizza ovens, landscaping and installation of solid concrete pools.

There's no such thing as an "out-of-the-box" solution for Steve – he sees each job, big or small as a unique opportunity to let stone enhance any property with its rugged beauty and charm. "Stone is a natural wonder", says Steve, "and I can help make it an outstanding feature of your property." Empire Stone welcome the opportunity to discuss your requirements in detail and propose a stone solution for you. Call Empire Stone today to discuss all your commercial and residential stone work requirements!

We use Construction Chemicals as our product of choice for all adhesives and glue.
Empire Stone is one of New Zealand's leading stone supply and distribution centres.
We offer a complete range of stone solutions throughout New Zealand. If it's stone you want, we've got it, and if we haven't got it, we'll get it for you!
Empire Stone offers full contracting services, working with builders, architects and directly with owners to achieve the right stone features for your property.

With certified stonemasons at hand, over 14 years of experience and a passion for stone that is as enduring as our product and workmanship, it's no wonder that we work all over New Zealand.

So if it you want it in stone, think Empire Stone.

Call Empire Stone today to discuss all your commercial and residential stone work requirements.